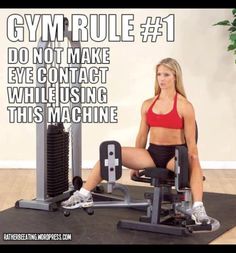 …and a smile, so I know tonight was a good night… You know the kind of night I mean. Blood pumping, heart racing, out of breath where you would almost want a moment or two to compose yourself but are so in the zone with all cylinders firing at once that you find the energy to go and go… The sweat starting around your hairline and back and slowly flowing down as you allow yourself to open up to the energy around you and find an almost peace like state despite the high degree of activity your body mind and soul find itself in. You might even grit your teeth or grab something to hold onto, as you push yourself to failure knowing that indeed, you're doing anything but failing.
Of course by that I mean leg night starting with the treadmill! Good stuff, I mean when you generally don't sweat because you're stuck in plateau-ville, population you and your stable health \ physique, but find yourself sweating more than normal, you realize quickly that you can't stop pushing yourself.
One example off the top of my head, is that inner thigh leg thing where you squeeze em together. Now first, it's one of the few contraptions I use that I can do so with almost a full stack. (That's gym talk, of which even I being a gym guy now didn't know about until last week.) Well I did so tonight and got a few more reps in (reps right, not sets?) but then found myself in the awkward position of sitting there with my legs splayed open like… I don't know, what's a funny analogy for that? Think of one and then pretend I said that.
I realized then and there that there was no dignified way of dismounting from that machine. At least when I do the leg lift or work on my tri's holding those hand holds, when I'm done I kind of do like a gymnastics type move when dismounting. Not with the leg thing, that leaves me struggling with the lever to pull it up so the friggin thing closes! That just makes me look silly, and with how seriously I clearly take myself you can imagine how I feel… Even though lets be honest, know one is looking or cares.
But then Sia's 'Cheap Thrills' comes on, again, and I find myself bobbing my head singing loud enough not to annoy but not low enough to be a whisper, but I'll really belt it out when the black guy does his part, added in from the original… At least I think he's black, you know how you can kinda just tell? (Easy people, half the time I'm called ma'am on the phone if people don't know me because my voice can sound higher and they think I'm a woman… I don't correct them because honestly it's more embarrassing for them.)
Anyway, I've got the accent down pat when the guy says 'more than diamonds more than gold,' at least that's what I think he says; I'm not good with accents. So off I go to work a body part from another section every two sets (reps?)  (Tonight was core; well, most nights I'll break it up with core, as I just want em to pop people! I mean if I admire it on women, why be hypocritical and not follow suit personally?)
At first I didn't like the machine where you sit, grab the handhold's above your head and to the side, and then squeeze your body together. But then I find the sweat angel I leave on the back piece funny so I like it now.
(Okay like, you know as a kid how you'd make snow angels in the snow, or now as an adult on the beach when people are looking but you just don't care (though I guess it's weird to do it in a polo and khakis in retrospect.) So it kinda looks like that from my shoulder blades rubbing or squeezing together, I'm not sure which and I'm not about to ask someone to watch closely and tell me.)
Anyway, I think the dark chocolate and hippy granola blend is beginning to wear off but because my sleeping habits are god awful, (probably has something to do with eating dark chocolate and granola every night) my night is hardly over.