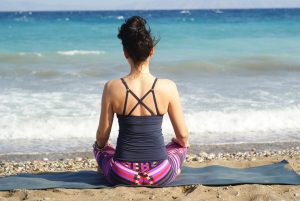 …are some of the hazards and benefits of going to the gym. I recently said to a friend at work that it's cute he thinks I'm smooth. You see I'm not exactly hulking in my demeanor, more of an alto than a bass, and have an athletic runner's physique as opposed to a fire plug build… Which is to say, just because I'm not over six feet and 250 plus pounds don't stereotype me and assume I'm smooth either.
So even with moderate and continually maintained body hair aside, I still avoid those god awful dago (it's cool, I'm half Italian so I can say that) undershirts, that almost seem like they're pre-made with sweat stains and bad decisions. Sadly that logic doesn't apply to some of my fellow gym goers; the ones who's unkempt and very noticeable shoulder and back hair is on full display for you to do your best to avoid looking at.
Maybe it's a matter of simply not caring, or knowing the fact that even though you're there to work out, you don't have to make sure everyone knows you're that guy who doesn't care what you look like. The first one somewhat irks me, especially when these people get up from the machine they were just on, having not wiped it, and leave a trail of sweat and terrible black hairs in their wake. And the second one I get, but then that contradicts the female component in all this. (Potentially contradicting myself, allow me to explain…)
Now two genes I was born without is the one where I really care what other people think, and the douche bag gene. (Though in their absence, I got the hyper and talky genes so easy ladies… I know, yuck.) So when I see a beautiful brunette walk by wearing a pair of black yoga pants with a racing stripe down the sides, a dark Nike hat with her ponytail pulled through the back, and a dark green sports bra \ tank top combination, I don't make it obvious that my heart is going pitter patter. (Yeah, got somewhat specific there, but no need to focus on that and what not.)
Which is to say, even though everyone is there to get in shape in whatever form they find necessary, dressing great and looking good isn't exactly the point or the focus. Yet many women still do so, and I suppose since it could just be human nature and all, I wish some guys would follow suit.
Take 'disturbing tattoo dude' for another example. Whether his tattoo is that of the devil or Darth Maul, I tried not to look long enough to find out. And though I'm guessing the tattoo artist was either on the acid or had advanced stage Parkinson's, I have to assume this guy specifically wants people to look. We get it, you're what you think as edgy, awesome; but I generally like to sleep when my frickin insomnia \ dreadful sleeping habits will allow, and when my brain is attempting to defrag your dumbass tattoo rising to the surface of my mind's eye just plain sucks.
My one brother has tattoos, sleeves in fact. Yet clearly his artist didn't hate him, as evidenced by the fact that his are actually done well. This guy at the gym should get his money back or save it for a lawyer, to sue who ever did this to him.
My point, as I attempt to weave one in these posts, is know yourself. Know your limitations. And know your audience. Or at the very least, consider the people that have to use the equipment after you, or workout next to you; because some gyms will only sport for the cheap dollar store wipeys and even two or three can't sufficiently take care of the memory of the sweat \ body hair combination left behind.