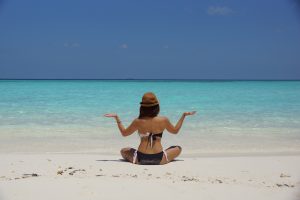 …I'd invest in a home gym, and this is coming from me, a dude. From the errant stares and glances to the weird ways in which other guys simply handle themselves, I find it all surprisingly aggravating. And keep in mind, I'm not including the sexual component with all this, that women tend to have to deal with when at the gym FAR more than guys do.
(Eh, well, there was this one young-ish person who I found to be 'accidentally' looking in my direction when I was doing squats, and never when I was going up but rather the opposite, e v e r y time. Thought it was me, but three sets later a pattern was clearly set.)
Now I usually go to workout at night, late enough that the place is barely packed but not completely empty either. So when I say it's not busy, I'm the only one on the two rows of twenty-ish treadmills. I usually take the back and just let fate direct me to which treadmill I randomly decide to run on. And as if on cue, one other guy decides to do some walking on another one, and it doesn't have to take a detective to guess which one he chose.
Nope, not the one on my right or left, but in front of me. Well come on Matt, at least he wasn't right next to you! Yeah no, he might have been further away from me by being in the front row, but instead of walking forward, he decided it was opposite day and walked backwards. You get that? The guy was walking backwards right in front of me, not directly staring at me but not not staring at me either.
I would almost rather have a stare down with the dude where it would eventually end, as opposed to the awkward ways in which he kept trying NOT to look at me! And the most frustrating part was there were 38-ish other elegant solutions for him to choose, by choosing any of the other treadmills as opposed to the one right in front me.
And no, I wasn't going to stop bobbing my head to Israel Kamakawiwo'ole's 'Over The Rainbow' because this guy decided to make things uncomfortable for the both of us. As luck would have it though, imagine that my Bluetooth headphones died halfway through this freak show. Now clearly there's no way in hell I was going to take them off. So for the rest of my time on the tread, (it's cool, it's gym talk) I had to keep moving my head as if I was listening to music.
Easy you say? Yeah no, because at one point my attention went to whatever awful drek was on the gym speakers, and I was moving to that rap metal 'shoot me now' crap on the sound system. (Yayyyy Pandora!) I didn't notice at first, but it dawned on me as I slowly looked up from the panel to the guy looking back, who naturally looked away very quickly, making it obvious he was just staring at me… And that my headphones were off-line.
So like, was this guy going to try to talk to me now? Did he know my headphones had died? Now you can say okay Matty, stop making it about you. But he could have picked ANY other treadmill and you know, not walked on it backwards, but chose the one right in front. And it went on like this, for another 10 minutes, at least until part way through that interminable example of 'gym fun' I got a 'phone call' from a friend.
God bless you techy dorks and your app making obsessions! Using this prank app my buddy showed me, I quickly programmed in a fake call to occur two minutes after I put my cell down, so it wasn't obvious. And listen, I'm good at a lot of things, and the opposite at others, but having fake conversations is something I excel at for some reason. Don't know why, but clearly this gift came in handy as it made the time pass far quicker than trying to move my head to fake music not in sync with the real songs playing.
Now I forget who I was 'talking' to or what it was about, but it continued on into my stretches just to be safe. I think it was about how I went out clubbing with the boys the other night, and techno-grinded with mad ladies, (context meaning not angry I'm told when using that phrase) while picking up their digits. Though one, I'm in my 30's now, I have friends, not boys. 2, I've never been to a club; not opposed, just never happened. And three, I did have to up the talk about the females enough to make it clear they're the gender I'm attracted to and not, oh say, the one of the person in front of me.
Honestly I probably only half sold it, as you don't have to be in my presence long let alone look at me for more than 14 seconds to tell I have no game, and truthfully don't want any. So as I quickly tried to think of funny sexual euphemisms or 'bro' talk to sell my fake conversation, my time mercifully ended and with a crack of my neck, I put on my running gloves, (not used for running) did my stretches like I said, and went downstairs. Thankfully he didn't come down as there was like two other guys and a janitor.
So listen, this is almost two pages in office, and I was able to write that much as just some dude at the gym. If I was a woman, let alone a 9 or a 10, (though there are higher, not many examples exist in nature, there's like one pretty much) I can't imagine how much longer that would have seemed. So the lesson I took away from this, is to always have a backup pair of headphones for just this occasion.