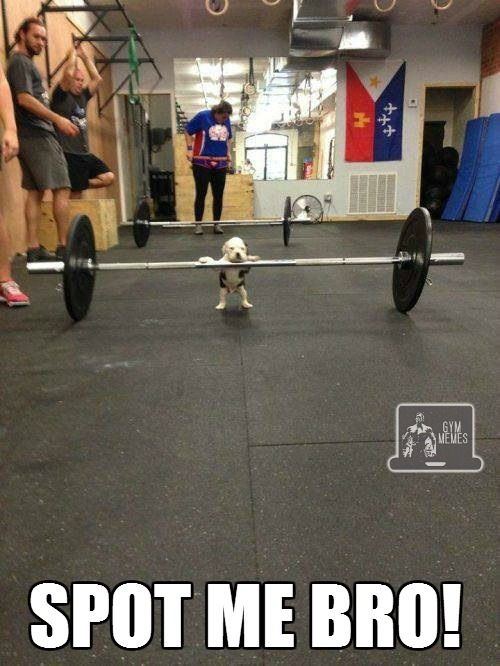 …was at least what I was thinking when this guy was spotting me, and trying to take my soul. Literally as he was helping me, his head was over the bar and almost over mine, and his eyes would not leave mine. Now ironically I'm an eye guy, at least when it comes to women, as that's the first thing I notice \ look for. I tend to love the least common natural eye color, which is green, especially opposed to cyan or cobalt colored contacts.
If nothing else it's already a struggle on where to look in the first place. If I look at the bar, I'm going to over think my form, which would probably be a good thing. If I stare at the light above, I'm going to get that after affect image halo thing where it's right there but you can't quite capture it. Obviously I'm not going to stare at the dude, and I'm always careful not to inhale to deeply, for obvious reasons.
And asking someone for spot in the first place is always fraught with awkwardness. I mean you don't need to look at me long to guess yeah, that guy's gonna need some assistance. I'm around a buck 40 and pretty much lifting my body weight, but a lot of times do FAR better with help. Even if they're just mailing it in and barley touching the bar, at least if I can't get it up after the fifth or sixth time, the nice person above will gladly assist me and what not. It also beats crushing my neck or chest, so there's that too.
But a lot of times I'll look around and try to catch someone's eye. Now I won't lie ladies, I go for the guys in this case. Chances are if I'm almost lifting my body weight, or more when I'm feeling ballsy, this set definitely weighs more than you. And though the spot in most cases is there just as a backup, the spot still needs to be a backup, just in case. If I'm struggling when number 4 comes around and just peter out energy wise, your hands underneath won't really protect my windpipe if you can't get the bar secured, or at the very least off of me.
No worries though, because just the same I know my limits. At my college gym when I started a meathead once asked me to spot him. I smiled, laughed, and pointed at myself and what he was lifting. I said that weighs more than I do, and if he gets into trouble is he really going to want me helping him? I even had my football gloves on, before I started using the runner's kind, which definitely help more with tensile strength (and obviously keeping gym germs away) but still, why risk it?
Anyway I strategically look around the area to catch someone's eyes. Again chicks are out, the same with guys that are my size \ toned athletic build, and of course people that are covered in sweat… As nothing says PUSH when droplets of a hygiene challenged guy's sweat are raining down on my face. Now I can't even tell you how I do it or the awkward hyper hand gestures that follows in getting someone's attention, but everyone is pretty much friendly and willing to help.
And trust me I've needed it before. A few times I really tried to out do myself, and without a spot. As I'm struggling to get the bar up to the next closest rest, my arms shaking and sweat pouring, I usually let out a sarcastic "yep" and rest it on my chest. Now of the bakers half dozen I've done that, six times I had people come over and lend a hand. My standard response \ "joke" is; "Yeah, thought I had that last one but clearly didn't… Either way hope this doesn't end up on YouTube." The chuckles, boy do they ensue. Well, by that I mean the polite courtesy laughter I get when they walk away.
One time there was just no one around, which should have been an indication that I shouldn't have pushed. But there I was with the bar and weights sitting on my chest. Now thankfully I actually have one now as opposed to the chicken chest back in the day, but it still hurt, and wasn't hurting less as the seconds went on. So I shrugged and just dumped the weights on the one side. The noise wasn't really bad and as I stood and stretched, I looked at the one camera and gave a thumbs up with a smile. I've always found people take themselves too seriously, especially at the gym, and or when they're embarrassed. Look, this happens to everyone at one point and if it doesn't, good for you, you should be president of the universe or get Amazon Prime for a year.
Either way, I didn't ask the guy that started me down this post for help again. The culty way in which he wouldn't break eye contact, all wide eyed and twitchy, was as such that if he's going to be the last person I see before I pass out because even he can't get the bar off me, I may as well go for the emerald eyed beauty who I would gladly let pierce my soul.
(See what I did there? Multiple call backs in one sentence. Nice!)