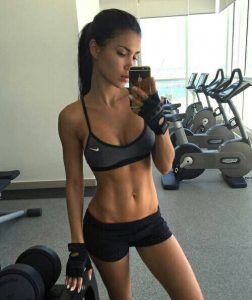 …because as you know, contradictions are the spice of life; or probably not that at all. It depends on your perspective really. Take the feminine form for example; athletic and or toned to be specific. Time sacrifice and motivation are just a few of the admiral qualities that go into obtaining this. And the women that have this focus are awesome in my estimation, and I've had this viewpoint for as long as I can remember.
You could say it started as a kid. Back then I was hyper and dorky, little having changed, and as the last of five with only one sister; when she was in high school she had friends who were cheerleaders and into gymnastics. Sometimes she'd go to their meets or practices or some such, and lucky her she got to schlep me around! From there I got to watch and or talk with older girls who would do all these crazy, health defying dances or moves, and I found myself captivated quickly.
Maybe that's when or how the seed was planted, but the result is still the same; my innate and profound attraction toward those unicorns who walk among us. The fit \ athletic \ flexible \ active women who truth be told could bring me to my knees in awe, especially with the right hair \ eye color combination.
So in other words, I must like the dong. (Sorry for the bluntness, allow me to elaborate…)
From high school to college, the workforce to the gym life, I have found that I'm generally in the minority of guys with this view. However because I'm thick skinned, I take the chop busting in stride and laugh along. And from being told I should just come out of the closet because I like women with 'guy-ish' figures, you can imagine I've heard it all.
Family and friends are the same pretty much. Love that sculpted core on a woman you say? You must be light in them loafers! Prefer a woman that goes to the gym more than the bar? Well your favorite color must be pink! Awestruck by women that are flexible and can contort into amazing yoga poses? You should probably just buy two groomsman figures for your gay wedding cake at your gay wedding, cause you're gay and into guys. (Emphasis to establish pattern.)
Now it's the guys that bust my stones for loving these body types on women that irk me the most though. Why? Because they'd be the first ones to want to sleep with them if they had the chance!
Example: I was talking with a buddy and a ginger I'm friendly with at the gym. This yoga panted lass walked by and yeah, wow. The ginge said how he'd love to do X Y or Z, or get A B and C done to him. Yeah fine, sure, best 30 seconds of his life no doubt. He then said she's hot because he's a chest guy of course, which brought me back to the quaint 90's, as butts are clearly more of a 21st century trend.
Either way I'm an eye guy, and saying as much was the first signal flare. When my buddy smiled at me already knowing my thoughts, the ginge asked what and I just shrugged and gestured around my stomach saying I liked hers and her arms. He said he didn't think she was a pre-op trans, but I should get on my knees to check and make sure. Laughter followed his wit which was then quickly followed by a "I'm just playing bro," then followed by him lightly touching my back. (Yep.) I won't lie, the trans-phobia aside, the speed in which he went to that slam was amusing to me.
But you get that right? The ginge JUST said he wanted to bang out the pipe or lay the sex down with that girl! I said how I think she's hot because she's athletic, and all of a sudden I should be taking a trip to Rio and find myself a trans wife. (I'm de-pricking what he said of course.)
Now I could just mail it in and just go with the grain instead of against it. But even when I attempt that it just never works. Same guys, same gym, different day. Another girl walks passed as the boys were talking sports, while I simply nodded my head occasionally quoting what I've heard my dad or brothers say. The ginge points out her rear, I quickly agree as it was aesthetic for sure, mentioning how I also liked her smile. He rolls his eyes again and I just laugh, telling him I like a toothy smile, like Nancy Kerrigan. Naturally he was confused, so I simply waved it off, realizing he wasn't even alive in 92 when I was 10!
I suppose this ode is more of a gripe session, but the point should hopefully be clear…. None of these guys over the years would turn down any opportunity to be with these taut beauties. Yet at the same time, sometimes in the same sentence, they go from horny because of the girl to haranguing because of my preferences and reasoning.
Allow me to end on a quote from the great and canceled too soon sitcom The League. It's related to a gay doctor talking to one of the characters he thinks is confused about his sexuality when he really isn't. "…your wife, does she have a, boyishly athletic figure?" The answer of course, is yes.