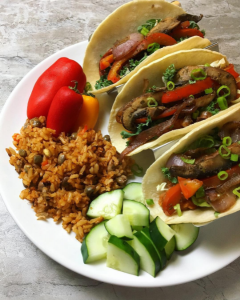 Evidently lentils can be red. Truth be told, without actually googling them, I'm not sure what color they are. Beige-ish right? Well either way let's move on from my embarrassing lack of knowledge when it comes to you know, food, and enjoy this recipe from Catherine who thankfully knows a thing or two about all this!
– 1/2 cup red lentils
– 1 1/2 cup vegetable broth
– 1 tbsp tomato paste
– 2 tsp smoked paprika
– 2 tsp chipotle powder
– 1 tsp garlic powder
– Salt to taste
Bring ingredients to a boil in a sauce pan. Lower heat to a simmer and cover. Allow lentils to absorb liquids and soften for 10-15 minutes. If lentils remain whole, add additional vegetable broth and allow to simmer for 5-10 minutes. Once this mixture thickens it is ready for use in tacos or paired with rice.