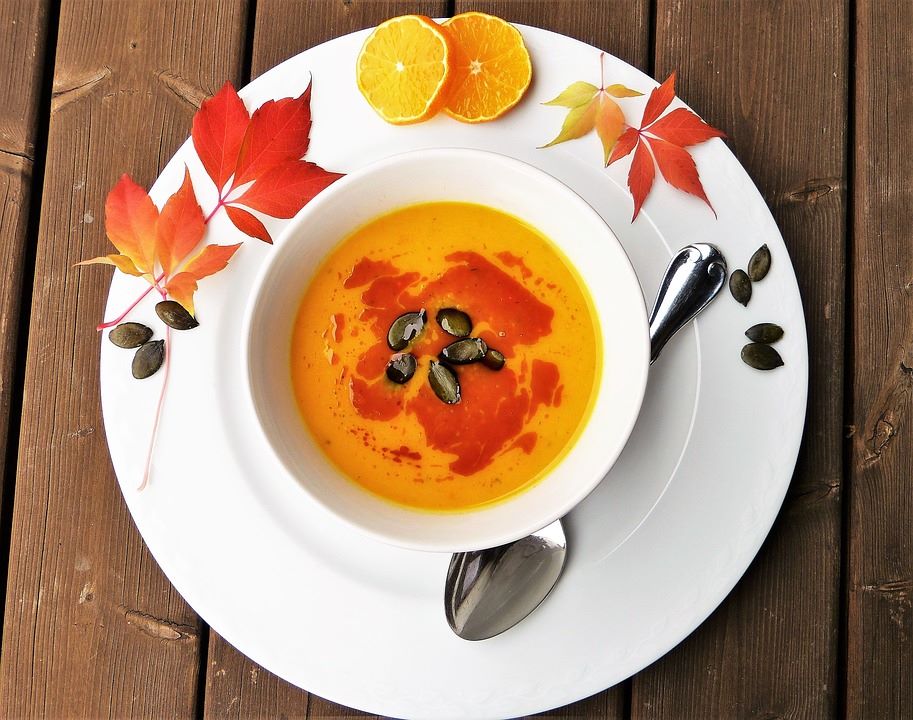 Back in the day my go to soup was chicken noodle; but the "healthy" kind in a box. Fast forward to today and with my green eating habits being as they are, obviously I need a new stand by. I'm not going to lie, this recipe isn't going to be that, but that doesn't mean it can't be yours! If nothing else, it's colorful I'm told, so there's that.
– 2 to 3 teaspoons chipotle chiles in adobo
– 1 tablespoon water
– 2 tablespoons olive oil
– 1 medium onion, chopped
– 2 celery ribs, chopped
– 1 (16-ounce) can pumpkin puree or 2 cups pureed cooked fresh pumpkin
– 1 teaspoon ground cumin
– 1 bay leaf
– 4 cups vegetable broth, homemade (see Light Vegetable Broth) or store-bought, or water
– Salt!
– Freshly ground black pepper
– 1 cup plain unsweetened soy milk
Directions: In a blender or food processor, you should combine the chipotle and water and run on puree. After that set aside. Next in a large soup pot, or a regular pot, heat the oil over medium heat. Add the onion and celery. Cover and cook until soft, should take about 10 minutes. Stir in the great pumpkin, cumin, bay leaf, broth, and salt and pepper to taste. Bring to a boil, then reduce the heat to low and simmer, leave it uncovered, for 20 minutes, not forgetting to stir occasionally.
Remove the bay leaf and discard in the trash post haste. Puree the soup in the pot with an immersion blender or in a blender or food processor, in batches if necessary but only if necessary, and return to the pot. Stir in the soy milk and taste, adjusting seasonings if necessary. Cook over low heat for 5 minutes. Ladle the soup into bowls, garnish with a swirl of the chipotle puree, as much as you like in fact, and serve. Makes 4 servings.